A Mesa Falls mural by Don Ricks (Rexburg artist) removed from the Frostop Restaurant during a 2021 remodel is on loan from Wayne and Hannah McCausey.
About the mural and it's artist
Don Ricks and His Legacy of Art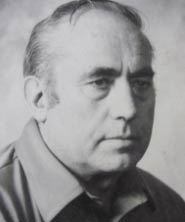 Don Ricks (1929-1996) was often referred to as an artist's artist. He was highly respected by his peers and aspiring artists, alike. Don grew up in the shadow of the Teton mountains. His humble beginnings as the son of a turkey farmer gave no indication that he would achieve the level of success that he did.
Ricks knew from an early age that he wanted to be an artist. His fifth grade teacher enlisted Don's help to draw illustrations on the chalkboard for the class. This kept the active boy constructively occupied, and helped Don realize that he enjoyed creating art.
When Don graduated from high school, he went to Ricks College in Rexburg on a football scholarship. After serving a two-year LDS mission in Helsinki, Finland, Don returned to Ricks College. Here he met his beloved wife, Iris Hunter.
Over the next few years, Don and Iris pushed through the struggles of starting a family while attending college. They ended up at Utah State University in Logan, Utah where Don studied Studio Art.
Eventually, they found their way back to Rexburg where Don set up a sign shop. It was difficult in the beginning, but eventually the business took hold and Don was able to support his growing family.
Through it all, Don never lost sight of his desire to paint. His family always came first, but he knew there must be a way to take care of his family and paint, as well. And always by his side was his greatest ally, Iris.
In 1968, Don was introduced to Russian artist, Sergei Bongart.  Bongart invited Don to come to California to study with him and in 1970 he was finally able to go. Don came up with the idea to sponsor a plein air workshop in Idaho, with Bongart as instructor. As soon as the Rickses got home, Iris got to work making arrangements for a workshop. This would be the beginning of many more workshops known as Painting Vacations.
Painting Vacations evolved to be highly successful, on-location plein air workshops held in different spots around the western United States. Don eventually became the principle instructor, as well as Milford Zornes, watercolorist.
The Painting Vacations were a family affair, involving Don's children, as well as Iris. Russ has fond memories of helping his dad's workshop attendees set up their easels and then painting along with the rest of the class. He received a unique art education in this way.
Eventually, Don was able to give up the sign shop and focus entirely on his art career. His work has been collected throughout the world. Many of his paintings are now familiar prints that have found their way into homes and businesses.
Because he involved his family in his creative journey, his sons, Douglas, Russell, and Marty have all pursued art as a career. Douglas has since passed away, however, Russell and Marty are both actively following in their father's footsteps, chasing their art with great passion.
Don Ricks was a man who worked hard at whatever he pursued. He was determined and passionate about his art. And now, his legacy lives on through his sons.